Ever make a recipe and think to yourself, "Boy that was good, but I think I can make it even better." Such was my experience with these two zucchini soup recipes (Zucchini Basil Soup with Lemon and Zucchini Coconut Soup with Thai Basil).
The first recipe (pictured above) was inspired by a no gluten and no dairy diet that I'm currently doing. When I first tasted it, I knew it needed a little something.
Like dairy.
Oh how I love dairy, especially good quality full-fat dairy. Nor do I think it's bad for me. That's not why I'm currently excluding dairy. I'm doing a temporary reset/detox which is more about not having caffeine and sugar. The dairy part was optional but I figured I'd go for the full torture experience.
I will go back to dairy like a cow goes back to pasture real soon.
My point is that had I included a generous dollop of sour cream or yogurt or added some parmesan cheese I think it would have been absolutely perfect and there would have been no need for a post with two zucchini soup recipes.
Get the second zucchini soup recipe, Thai zucchini coconut soup with Thai basil, by following this link.
Where to get Craig's books and articles:
You can see all of Craig's amazing soup recipes, articles about bone broth, and intriguing blog posts on his site, Fearlesseating.net.  Craig has also written 3 books, The Thai Soup Secret, Fearless Broths and Soups, and The 30-Day Heartburn Solution. Craig wrote these books because he wants people to learn how to heal themselves naturally, through food. He is a bone broth pro and he uses what he learned in his travels to Southeast Asia to create amazing recipes and broths that are naturally so good for your gut health, and your whole body.
Check out some more Mediterranean Zucchini Recipes below:
Zucchini Fritters with Feta, Cheddar, Mint and Parsley
Crustless Zucchini Pie – Aglaia Kremezi
Gratin of Tomatoes and Zucchini – Nancy Harmon Jenkins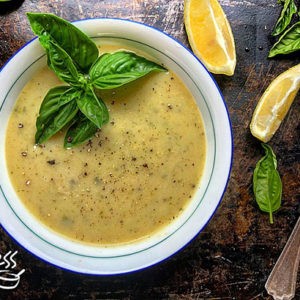 Zucchini Basil Soup with Lemon
Ingredients
2

tbsp

butter

1

medium

onion, chopped

3-4

cloves

garlic, chopped

4

medium

zucchini, peeled and chopped into cubes

3

cups

chicken broth

1

lemon zest

1/2

cup

loosely packed basil

Sea salt and pepper, to taste
Additional Seasonings, Optional and to Taste
Salt and pepper

Basil leaves, chopped

Lemon wedges

Parmesan cheese, grated