Sometimes I wake up and crave a nice greasy American breakfast. I usually come to my senses when I realize that American breakfast food just makes me feel groggy and wanting to go back to bed. When I crave a delicious breakfast now, I make some form of skillet potatoes with lots of extra virgin olive oil!  This is one of my favorite Mediterranean breakfast recipes because of how the potatoes and onions get nice and crispy and the spices perfectly compliment the rich runny yolk. There's something amazing about the spices and olive oil that help create a beautiful crust with the potatoes and onions.
I recommend cooking this in a cast iron skillet. The heat is spread evenly which helps to crisp up the potatoes nicely. Also, you can present the recipe right in the cast iron skillet and serve it from there.
Keys to this recipe:
Cutting the potatoes thin so they don't take forever to cook through.
Only cutting enough potatoes for a single layer in the pan.
Turning down the heat to medium-low after you add the spices so the olive oil doesn't reach its smoke point.
I thought about doing this recipe as an omelet but instead kept the poached egg idea because I love the runny yolks. It's also easier for me because I don't have to worry about flipping an omelet and destroying it mid-flip. If you wanted to make this an omelet, fry the potatoes, onions, and spices like normal until the potatoes are cooked through, and then add the 5 eggs whisked. I would also add feta, cheddar, provolone, or mozzarella cheese. If you make this omelet, let me know how it comes out!
Also, if you don't want the eggs sunny side up, you can turn on the broiler in your oven, place your skillet on the top rack in the oven and broil off the top of the eggs for about a minute.  This way you can make your eggs over medium or over hard if desired.
Let us know if you like the recipe and please rate and review after you try it!
Have you checked out our other Mediterranean Breakfast recipes?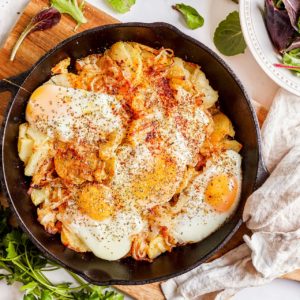 Mediterranean Skillet Potatoes with Poached Eggs
Ingredients
1/3

cup

extra virgin olive oil 

2-3

potatoes, washed and sliced into thin rounds

1

medium

onion, sliced thin

1/4

tsp

salt

1/4

tsp

black pepper

1/2

tsp

smoked paprika

1/4

tsp

cumin

dash of ground coriander

5

eggs

1

tsp

dried oregano