A New Way To Eat Zucchini: Zucchini Parmesan
Cooks in the Mediterranean have the same love hate relationship that we have with zucchini. Hate is definitely too strong of a word here. Anyone who grows zucchini knows the unease that you feel as zucchini flowers suddenly turn into a never ending, "how will we ever eat" this ridiculous amount of zucchini. Still, lets give zucchini the love that it deserves. Zucchini is delicious, nutritious and easy to use. It is plentiful year round although it is better fresh. You can make a very satisfying sautéed zucchini in around 5 minutes. Because it is so plentiful and found all over the world, there is a plethora of creative zucchini recipes from zucchini bread to zucchini noodles, zucchini fritters, stuffed zucchini, zucchini soup, zucchini chips and zucchini casseroles. Zucchini parmesan is a welcome addition to the zucchini recipe collection.
Zucchini Parmesan From The Heart of Italy
Nothing is more Italian than parmesan dishes. While the most popular parmesan cheese dishes are chicken parmesan and eggplant parmesan, the Italians have many different variations on the parmesan theme. This zucchini parmesan recipe is not only easy, but is made entirely in a skillet. Make sure you use an oven safe skillet though as it is finished in the oven. If you don't have an oven safe skillet, such as cast iron, you can always bake the cooked zucchini, tomato sauce and cheese in a casserole dish.
Zucchini Nutrition
Zucchini is one of those vegetables that seems like it wouldn't be that high in nutrition, but it totally is! Zucchini is loaded with antioxidants, is low in calories and is especially potent in Vitamin A, manganese, vitamin C and Potassium. Because of its high levels of vitamin A it is potentially very good for your vision. It is great for you heart because of the antioxidants and other nutrients it contains. It is also high in both insoluble and soluble fiber making it great for your digestion. It is low in carbs, high in water and low in calories making it one of the perfect vegetables if you are trying to lose weight. Zucchini, as it turns out, is a nutrient powerhouse.
Zucchini Casserole In A Skillet
This zucchini parmesan is easy to make and you can be eating it only 40 minutes after your start prepping. Start by preheating the oven to 400 degrees. Why so high of a temperature? You want to both heat the vegetables and sauce quickly, but also get the cheese to be melted and just a little golden. You could actually turn the oven on broil for the last few minutes so you would get a sizzling, golden finish.
While the oven is preheating, slice the zucchini and mushrooms. Heat your skillet on a medium heat and then add the butter and olive oil. Next, you will add the anchovy filets. Now, if you are like me, and think that you hate anchovies, I would say, give them a try. When you saute them in oil they dissolve and just become flavoring. It really adds to this parmesan dish, but if you are dead set against them, just leave them out and start by sautéing the vegetables in the oil/butter mixture. Once you have sautéed the veggies with the basil, salt and pepper, to taste. Next comes the fun part. Layering.
Take the veggies out of the skillet and then start the layering with tomato sauce. Next, you will add the zucchini/mushroom mixture then cheese. Then repeat. Finally, you will top with parmesan cheese and then it is ready to go in the oven. It won't need too much time in the oven because the zucchini and mushrooms will still be warm. Basically, you just need to melt the cheese. Remove from the oven and let cool for about 10 minutes.
Serve with your favorite salad and, if you want, some nice bread and wine.
Some Of Our Favorite Mediterranean Zucchini Recipes
The Mediterranean is chock full of amazing zucchini recipes. Here are some of our favorites:
Zucchini Fritters with Feta, Cheddar, Mint and Parsley
Zucchini Basil Soup with Lemon
Gratin of Tomatoes and Zucchini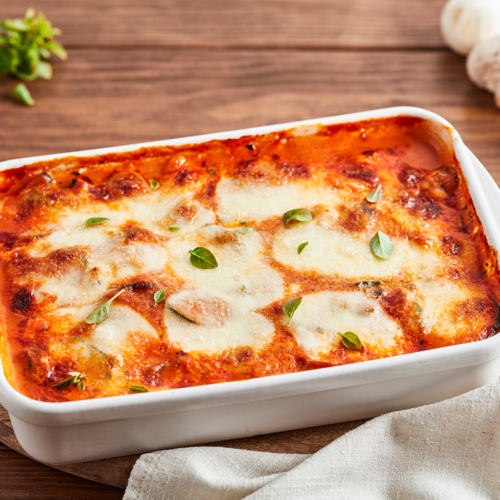 Zucchini Parmesan
Ingredients
1.5

pounds

zucchini, cut into 1/4 inch slices (around 3 zucchini)

10

ounces

sliced portobello mushrooms

3

tbsp

extra virgin olive oil

1

tbsp

butter

3

anchovy filets

1/4

tsp

salt

1/4

tsp

pepper

1

tsp

dried basil

1

pound

mozzarella, sliced thin

1.5

cups

tomato sauce

3

tbsp

grated parmesan
Instructions
Preheat oven to 400 degrees F.

Heat olive oil and butter in a large oven safe frying pan on medium heat

Add anchovies and stir until dissolved (about 1 minute).

Add sliced zucchini, sliced mushrooms, salt, pepper and dried basil. Sauté until zucchini starts to brown and mushrooms are soft (5-10 minutes.)

Remove zucchini and mushrooms from pan.

Add ½ cup tomato sauce to bottom of pan.

Layer ½ of zucchini/mushroom mixture on top of the tomato sauce.

Layer ½ of sliced mozzarella on top of zucchini/mushroom mixture.

Layer 1/2 cup of tomato sauce on top of cheese.

Layer rest of zucchini/mushroom mixture and then 1/2 cup more of tomato sauce and then top with rest of mozzarella.

Sprinkle grated parmesan on top.

Bake in oven for 20 minutes.
Nutrition
Calories:
545
kcal
Carbohydrates:
16
g
Protein:
32
g
Fat:
41
g
Saturated Fat:
19
g
Polyunsaturated Fat:
3
g
Monounsaturated Fat:
16
g
Cholesterol:
102
mg
Sodium:
1403
mg
Potassium:
1089
mg
Fiber:
4
g
Sugar:
10
g
Vitamin A:
1629
IU
Vitamin C:
37
mg
Calcium:
660
mg
Iron:
3
mg