Tabbouleh or Tabouli is one of my favorite Mediterranean salads.  Coming from the Eastern Mediterranean (Lebanon and Syria), tabbouleh cools the senses and is a brilliant complement to spicy  or strong flavored foods.  It is wonderful as a lunch with grape leaves, olives and roasted red peppers.  I also love to eat it with falafel and tahini sauce or Moroccan spiced meatballs.  Tabbouleh is a burst of flavor that is a fantastic opener for a grilled fish or baked chicken dinner.
Quinoa Tabbouleh is a Superfood
Quinoa tabbouleh can be a complete meal on its own.  Quinoa is gluten free and high in protein.  There aren't many dishes that have the amount of fresh parsley and mint that tabbouleh has.  They are both loaded with antioxidants and combined they create a nutritional powerhouse that can decrease heart disease risk, improve your brain function, relieve indigestion and reduce symptoms of a cold as well as improve your blood sugar.  Add in the cancer fighting components of lemon juice, the anti-inflammatory benefits of extra virgin olive oil and the cholesterol reducing benefits of garlic and you have a recipe that makes a true impact.  Besides the incredible flavor, the heath benefits make tabbouleh a treasure of the Mediterranean.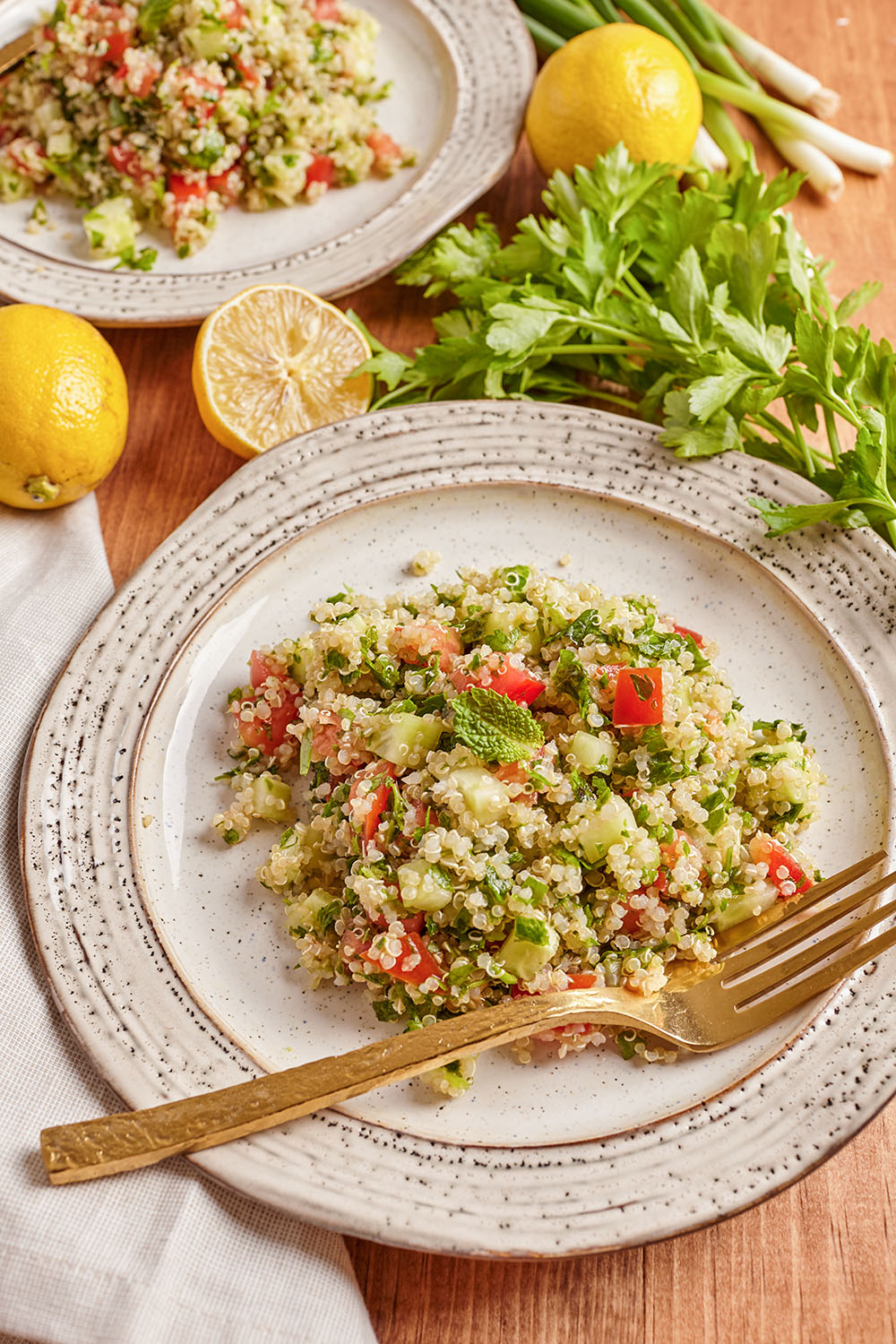 Additions to the original
Some things shouldn't be messed with and Quinoa Tabbouleh seems like one of those foods, but I do make additions on occasion.  Sometimes, I add feta and Kalamata olives.  I often serve the tabbouleh on a bed of lettuce surrounded by grape leaves.
Easiest way to make Quinoa Tabbouleh
In the kitchen of today, there are almost always methods to quicken the process of making a recipe.  For example, you can hand chop the herbs and vegetables in this recipe or you can chop them in a food processor.  You can make a big batch of quinoa at the beginning of the week and just simply mix the already cooked quinoa into your salad.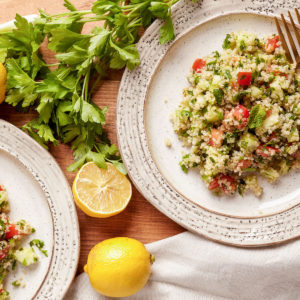 Quinoa Tabbouleh
Ingredients
2

bunches

parsley, washed and de-stemmed

1

bunch

mint, washed and de-stemmed

4

green onions (scallions), chopped

1

clove

garlic, chopped

1/2

cup

extra virgin olive oil

1/4

cup

lemon juice

2

medium

tomatoes, chopped

1

cucumber, peeled and chopped

1/2

cup

dry quinoa

salt and pepper, to taste
Instructions
Make quinoa according to package directions.

Add parsley, mint, green onions, garlic, olive oil and lemon juice to a food processor (or chop by hand).  Chop until herbs are very fine.

In a bowl, add herb mixture, diced tomatoes and cucumbers and quinoa.  Mix well.  Salt and pepper to taste.  Drizzle olive oil on top.
Nutrition
Calories:
236
kcal
Carbohydrates:
14
g
Protein:
3
g
Fat:
19
g
Saturated Fat:
3
g
Polyunsaturated Fat:
2
g
Monounsaturated Fat:
13
g
Sodium:
67
mg
Potassium:
361
mg
Fiber:
3
g
Sugar:
2
g
Vitamin A:
1791
IU
Vitamin C:
36
mg
Calcium:
60
mg
Iron:
3
mg
A few more Lebanese recipes: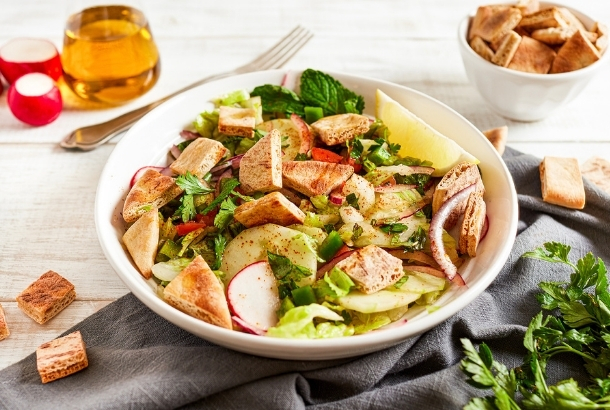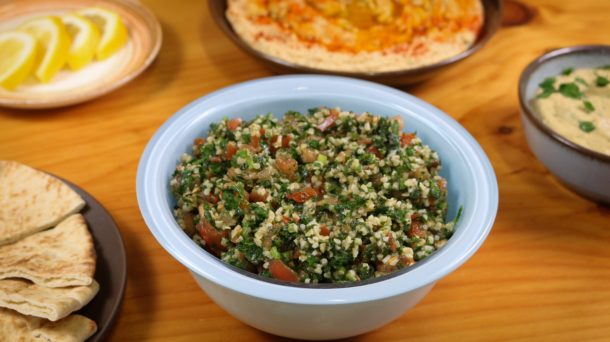 Traditional Tabouli Salad (with bulgur)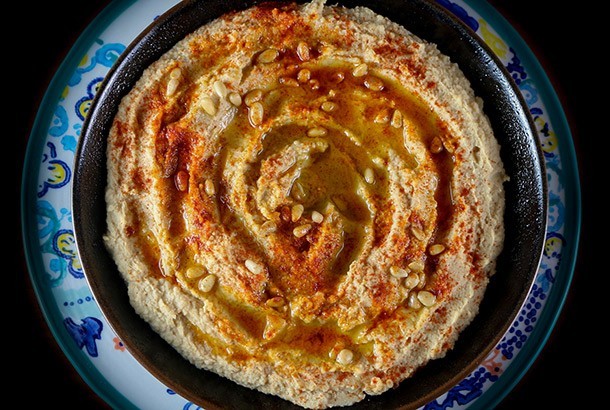 Plus, check out Bill's Video on making Food Truck Falafel