Back in my "eating like crap" stage of life I would have never thought that one day I would become addicted to eating bitter greens and potatoes simmered in olive oil with freshly squeezed lemon juice. Having been brought up on a steady diet of over-cooked frozen and canned spinach, peas, and broccoli slathered in slightly melted tub margarine, I only understood vegetables to be something to plow through in order to get to the Kraft Macaroni and Cheese and Tuna Helper. As an adult I learned to steam and stir fry vegetables and grew to appreciate the flavor of local produce. It wasn't until I went to the Island of Crete, though, that I really began to crave bitter greens.
Sign Up For Our Newsletter
Foods of Crete Cook Book
Do you want to eat like the
healthiest people in the world?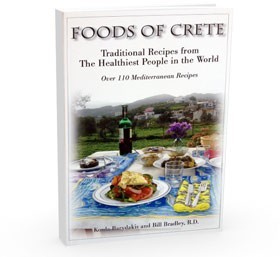 In the 1960's, the Greek island of Crete had the highest longevity rates in the world, the men lived to be the same age as the women and researchers could only find one man on the island who had heart disease.
In our cookbook, Foods of Crete: Traditional Recipes from the Healthiest People in the World you will find over 110 delectable recipes by Koula Barydakis, a chef and cooking teacher from the island and a guide to eating the Mediterranean diet by Bill Bradley, Registered Dietician.
Buy Olive Oil From Crete
Delicious and buttery, this is the oil that can be used for all your cooking needs including sauces, dressings, soups, bread dipping and even baking! Makes everything taste better!