Looking for real, traditional Mediterranean food? Here is a collection of authentic Mediterranean food recipes. These are from a variety of different Mediterranean countries.  Some of these are our own recipes, but many of them have been given to us by friends and colleagues who live in the Mediterranean, or have spent considerable time living and eating there. Even though these recipes are from different Mediterranean countries, they all have one thing in common, they all use extra virgin olive oil. Most of the vegetable and bean dishes included are dripping in liquid gold. This is one of the reasons why they taste so good. Another thing in common is that these recipes aren't difficult to make. Many of them are one-pot meals which makes them great for feeding your whole family. You can create an entire Mediterranean feast using a few recipes from this list. You can have a lot of variety because some recipes use quite a bit more spices than the others, like the tagine recipe for example. There is also recipes for everyone in here because there are vegan, gluten-free, vegetarian, and anti-inflammatory options. The first recipe you see below is a traditional Greek salad recipe, because what's more authentic in Mediterranean cuisine than that? I hope you enjoy the rest of the recipes and share them with your friends and family! Kali Orexi! (Bon Appetit in Greek)
Authentic Greek Salad (Horiátiki Salata)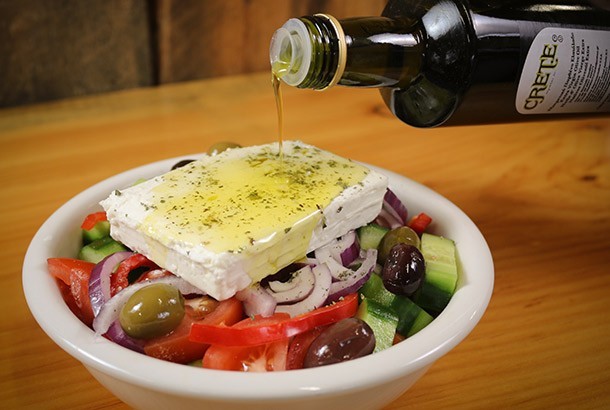 In 2014, I visited Greece for the first time.  I had waited my entire life to eat real  Greek food seeing that I'm half Greek.  I was also hoping to collect some authentic Mediterranean Diet recipes.  I arrived in Athens and was set to go on a study tour throughout the country. I got to my hotel and the study group was waiting for me to go to dinner together. I put my luggage in my room and we walked through the busy streets to a traditional Greek taverna. The waiter brought us bread with extra virgin olive oil to dip. The oil was so good. Then he brought the greek salad. This was a moment I will never forget. I took one bite of a red, juicy tomato slice and I thought to myself "What have I been eating my whole life?!" This was the sweetest, most flavorful, deep red, and beefy tomato I had ever sunk my teeth into.
Armenian Losh Kebab (Lamb and Beef Burgers)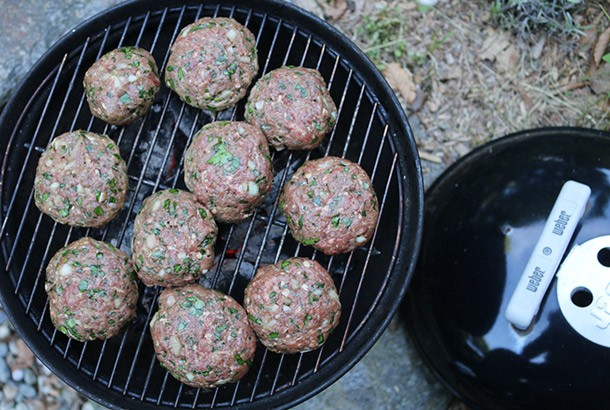 The losh kebab is a large burger made with fifty percent lamb, fifty percent beef. It is mixed with amazing herbs, spices, and chopped white onion. It's an absolute flavor bomb. There is lots of fresh parsley and onion chopped up and mixed into the beef and lamb burgers. I also notice a slight tomatoey flavor which is from the tomato paste. For spices, the main note I taste is cumin, which is so delicious in grilled meat recipes. The losh kebab is cooked to your liking. I personally like mine a little pink in the middle because it stays juicy that way. If you like it cooked well done that obviously works great too.
Black Eyed Peas with Fresh Dill, Olive Oil and Orange Slices
Black eyed peas with Fresh Dill, Olive Oil and Orange Slices is one of my all-time favorite Mediterranean Diet recipes. How can you go wrong with fresh dill, fresh parsley, green onions, orange slices, and 1 cup of extra virgin olive oil. As you prepare this amazing dish, I would highly recommend resisting the urge to cut back on the olive oil.  As you simmer the ingredients, the oil cooks into the beans and herbs and what is left thickens to make a flavorful gravy.  This is a traditional vegan dish from the island of Crete and works great with a vegan salad.
Egyptian Lentils with Rice and Pasta (Koshari)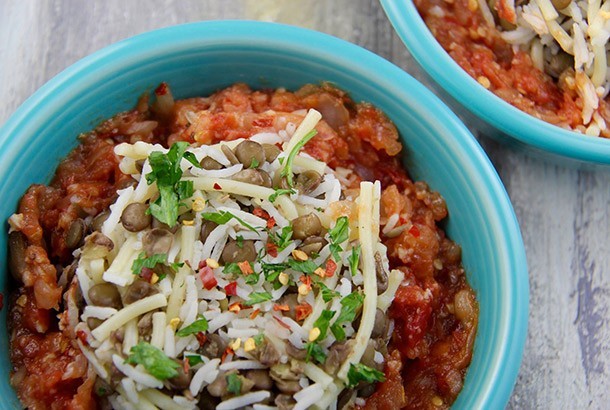 Koshari, also spelled Kushari, is the national dish of Egypt. It is one of the best Mediterranean diet recipes for using up things in your pantry. You can find Koshari in food carts and restaurants all over Egypt (and now you can make it in your own home!). This dish requires cooking everything separately and assembling it all at the end. Koshari is great because it's cheap to make, very filling, and equally flavorful.  The crispy, fried onion topping is optional, but traditional and gives this recipe a nice crunch!
Eggplant, Lentils, and Peppers cooked in Olive Oil (Turkish)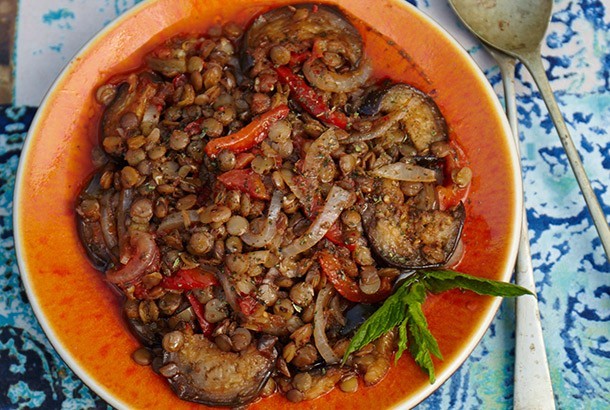 Recipe by Ozlem Warren.
Aubergine is the king of vegetables in Turkey. Like a tomato, it is actually classified as a fruit because it has seeds. This is one of my favorite and scrumptious Turkish eggplant recipes.  Eggplant, Lentils and Peppers cooked in olive oil, also known as Mercimekli Mualla is from Antakya and has been cooked in the southern Turkish kitchens for generations. Dried mint and olive oil flavour the green lentils and aubergine/eggplant beautifully. We make this recipe using the Turkish Zeytinyaglimethod (Vegetables cooked in olive oil) and it's important to let the dish cool in the pan so it can rest and the flavors develop. Passed on to me by my grandmother and mother, I share this recipe with you in the hope you enjoy it as much as we all do.
Tortilla Española (Potato Omelet – Spain)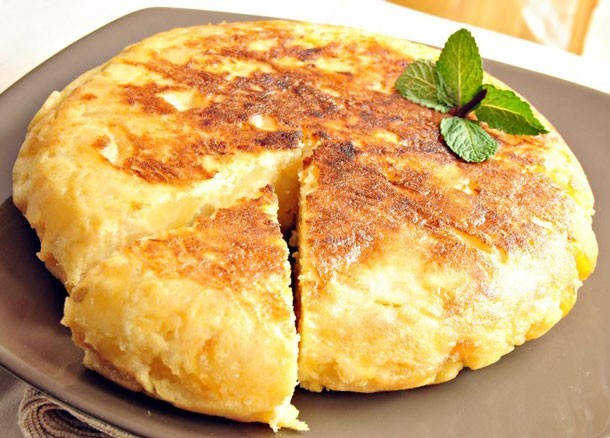 Recipe by Bill Bradley, R.D.
Tortilla Española, like many of my favorite Mediterranean dishes, is simple and has only a few ingredients.  But when the ingredients are potatoes and onions fried in a lot of olive oil, eggs, salt and pepper, what could be better?  Not many foods deserve the word "rustic" more than Tortilla Española, and when combined with some freshly baked bread, it is truly one of the culinary treasures of the Mediterranean.
Shakshuka (Eggs Poached in Spicy Tomato Sauce – Morocco)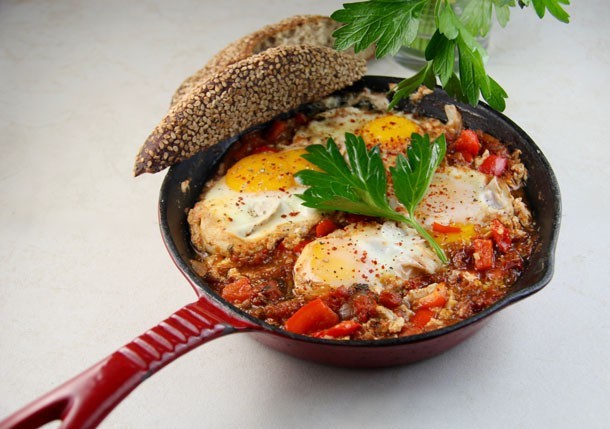 Recipe by Bill Bradley, R.D.
One of my favorite breakfasts is this Moroccan shakshuka recipe; fresh tomatoes stewed in olive oil, cumin and smoked paprika; with a jalapeño pepper thrown in for extra flavor and topped with poached eggs.  It is a filling Sunday morning kind of meal that is most satisfying if you have nothing especially important to do afterwards.  The extra juiciness of this meal lends itself to bread dipping whether it be a slice of whole grain baguette or a gluten-free cornbread.
Briam – Baked Vegetables in Olive Oil (Island of Ikaria-Greece)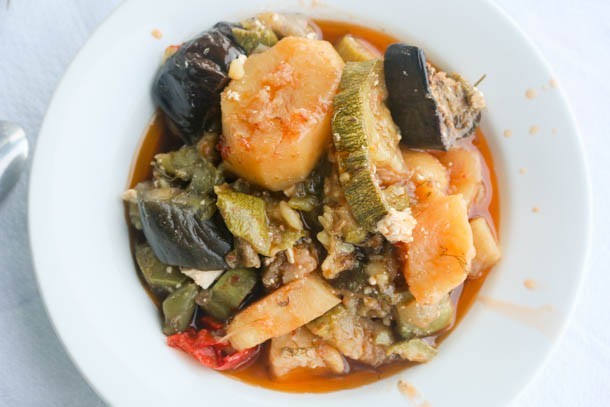 Recipe by Bill Bradley, R.D.
Briam is an oven-baked dish of fresh vegetables, herbs, olive oil, and an optional feta cheese.  It is one of the most classic dishes of the Mediterranean Diet.  This version was served to us at a seaside taverna on the island of Ikaria, a fiercely self-sufficient and proud island that has the highest rate of people who live to be over 100.  As my wife Christine and I sat enjoying the immense view of the Aegean Sea, we were treated to some of the best briam I had ever tasted.  After speaking to the woman who makes this satisfying dish, I quickly realized 3 mistakes I had made when preparing this dish at home:
Eggplant Parmesan with Prosciutto (Italy) (Gluten Free)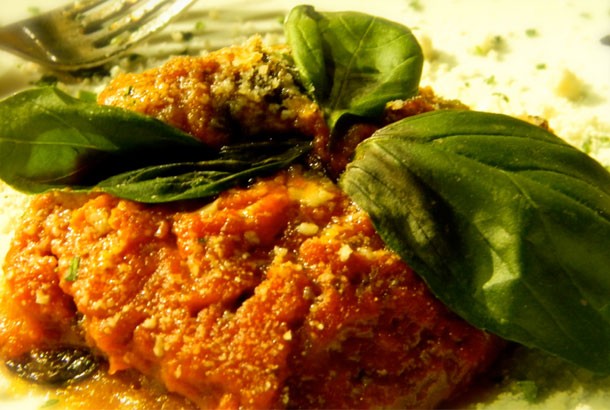 Recipe by Siena Terenzio
I have met very few people in this world that do not enjoy a nicely made Eggplant Parmesan. In Italian we call this – Melanzane alla Parmigiana and although it has few ingredients, there is a very good reason why everyone enjoys this delicious Mediterranean Diet recipe. This gluten free Eggplant Parmesan is prepared the traditional way, without using breadcrumbs.
Tabouli (Lebanese Bulgur and Parsley Salad)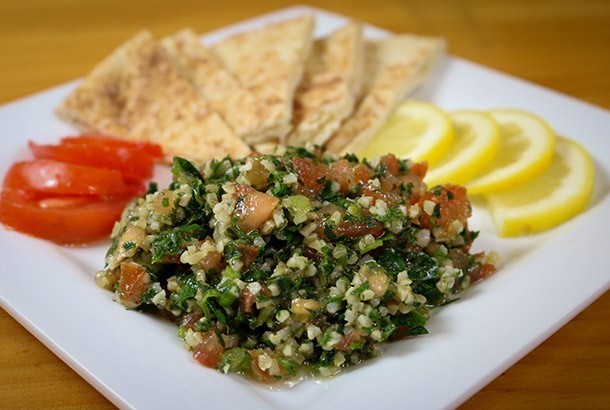 Tabouli is one of the most refreshing mezes out there. It's the perfect healthy, light summer food to cool you down. It's mostly fresh parsley which gives it the beautiful dark green color. It uses bulgur which is whole wheat. The addition of freshly chopped tomatoes and lemon add acidity. This tabouli recipe is delicious by itself, but even more amazing with fresh pita bread to scoop it up. I also love putting it in a falafel pita with hummus too. What makes this meze so easy to make is that you don't actually need to cook anything. You let the bulgur wheat soak in very hot water but that's the extent of cooking you'll do.
Lebanese Hummus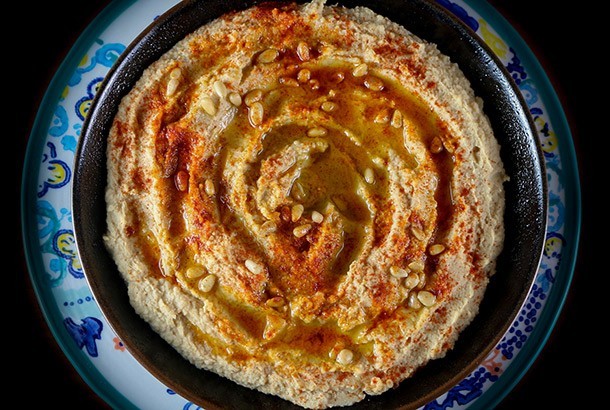 The variety of different types of hummus in the grocery store is growing rapidly. The thing is, homemade hummus is so inexpensive and easy to make that the store-bought hummus won't taste the same after you try this version. Hummus is a traditional Mediterranean diet recipe and is made with extra virgin olive oil, not canola oil, while most store-bought hummus contains canola oil. Your homemade hummus will already taste better and be healthier with extra virgin olive oil.
Grilled Swordfish with Lemon Parsley Topping (Greece)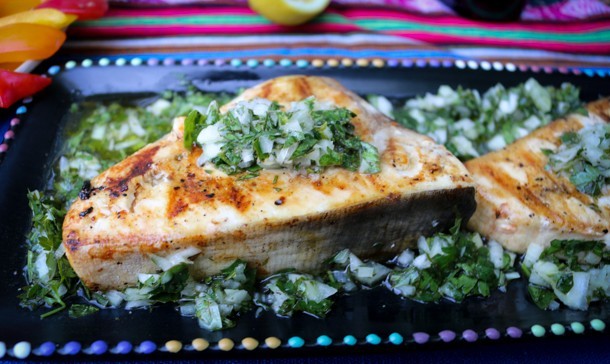 Grilled swordfish steaks are one of the easiest fish to cook on the grill, because it won't fall apart and it's pretty forgiving.  Even if you overcook it a bit, swordfish is still delicious.  It cooks on the grill much more like a steak than other fish.  Swordfish is high in protein and a serving gives you your daily dose of vitamin D.
Orange Lemon Potatoes (Island of Crete)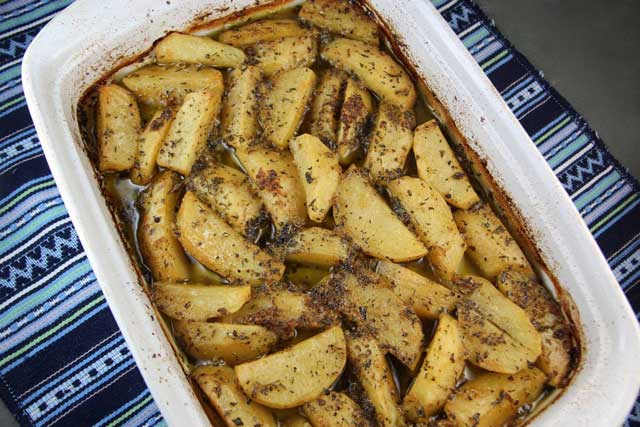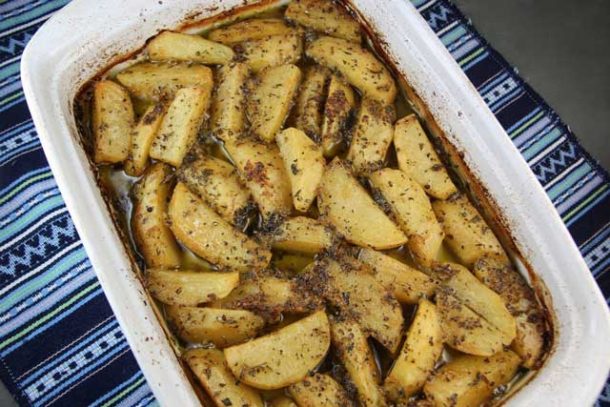 Recipe by Koula Barydakis
Everyone in Crete has orange and lemon trees in their backyard, front yard and courtyard.  We have fresh oranges for breakfast, between meals or as a dessert after dinner.  This is true for most of the Mediterranean region and why you will find lemons and lemon juice in so many Mediterranean Diet recipes and even oranges where you might not expect them (such as my white bean soup with orange slices or orange cookies which uses both orange and lemon juice).   Sliced lemons are also used for many Mediterranean baked recipes such as this Salmon with yogurt, spinach, lemon and capers recipe or Moroccan tagine with lemons, peppers, and green olives.
Traditional "Greek Restaurant" Salad Dressing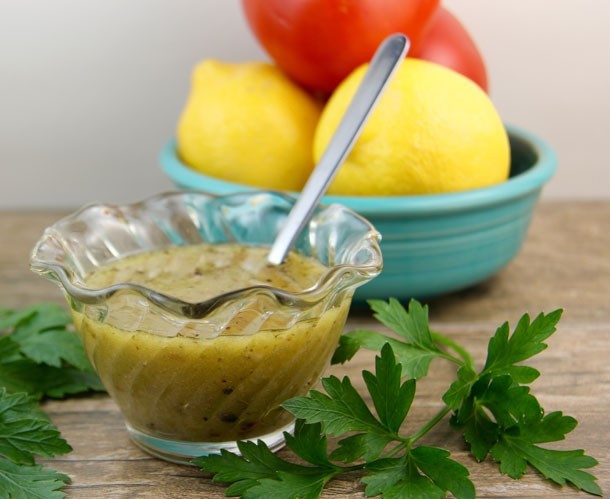 Recipe by Bill Bradley, R.D.
A Greek salad in an American Greek restaurant is quite different than a Greek salad eaten in Greece.  Here, in America, a Greek salad is made up mostly of iceberg lettuce and then some tomatoes, peppers, cucumbers, black olives, and feta cheese.  It is all topped off with a huge squirt of a  "Greek"  Mediterranean salad dressing.  Even though I much prefer the Greek salad of Greece, which has no lettuce and more of all the good stuff including a dressing made up of just lemon juice and extra virgin olive oil, I still like the American version every once in a while.  The American "Greek" dressing is always very flavorful and for many years I have tried to perfect my own version.  I think I have finally done it!
Falafel (Chickpea Patties with Sesame, Cilantro and Parsley) – Egypt
Recipe by Bill Bradley, R.D.
I have been looking for the perfect Falafel recipe for about ten years now.  There have been some horrible failures and some pretty good successes.  I finally have found the perfect Mediterranean Diet recipe for Falafel!
My all time favorite cooking failure (in hindsight)
I was cooking dinner for 35 people and had falafel as the main course.  I was being particularly adventurous and was using an untried recipe for the first time.  I have done this before in workshops, trying out a new recipe on a group of unsuspecting participants, usually with a good outcome.  This falafel dinner was another story.
Spiced Moroccan Meatballs and Veggies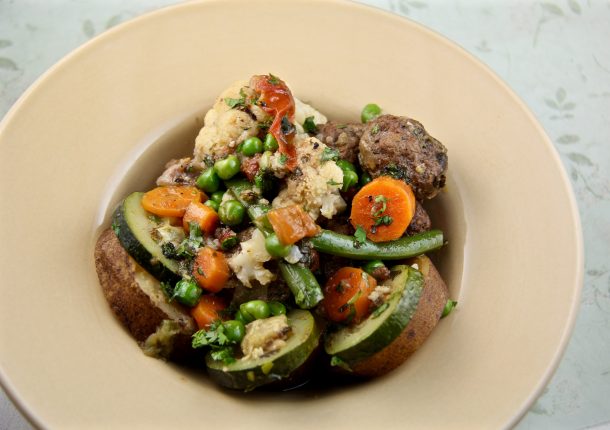 Recipe by Hafid Assab
I have eaten amazing foods from all parts of the Mediterranean, including spinach pies made by villagers in Crete, Tortilla Espanola eaten at a street cart in Spain, and chocolate croissants in France. But regardless of how many different cuisines and recipes I have tried, Tagine Kefta remains in my top five list of Mediterranean favorites. This dish is also known as Spiced Moroccan Meatballs and Veggies. Kefta, (or Kofta) is a meatball, usually made of lamb or beef, that is eaten in most Mediterranean countries and is a staple of the diet.  The spices are what give this recipe its unique Moroccan flair.  The mix of fresh cilantro with cumin, chili powder, and paprika impart a delicious savory flavor.
Chickpea and Spinach Salad with Avocado (Greek Island of Crete)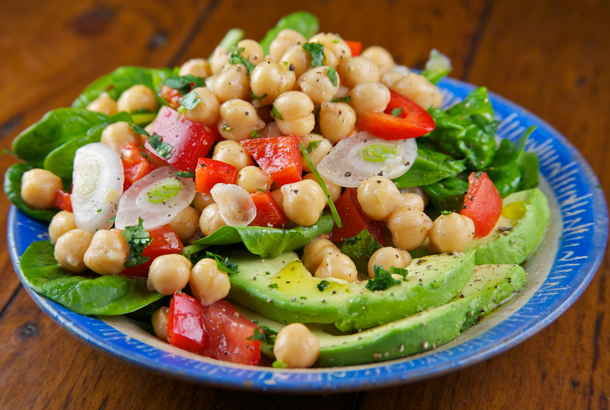 Recipe by Koula Barydakis
Koula Barydakis' traditional Mediterranean Diet salad is our favorite lunchtime salad. It's perfectly balanced w/ protein packed nutty chickpeas and our favorite superfood avocado. You'll get your greens in with salad, leaving you feeling healthful and fulfilled.
Beef Cacciatore (Italy)
Cacciatore, which means "hunter" in Italian, is one of the classic Mediterranean Diet recipes. Hunters would eat this simple dish after a successful day in the woods.  Originally, it was eaten without tomatoes, because tomatoes were brought to Italy from the New World. Beef cacciatore recipes vary depending on the region of Italy where it is made in. For example, in Southern Italy, they might use anchovies, olives, and sometimes spicy peppers. In northern Italy, they use more ground vegetables like carrots, celery, and onions in their cacciatore dishes.
Cinnamon Walnut Apple Cake Baked with Olive Oil (Greek Island of Crete)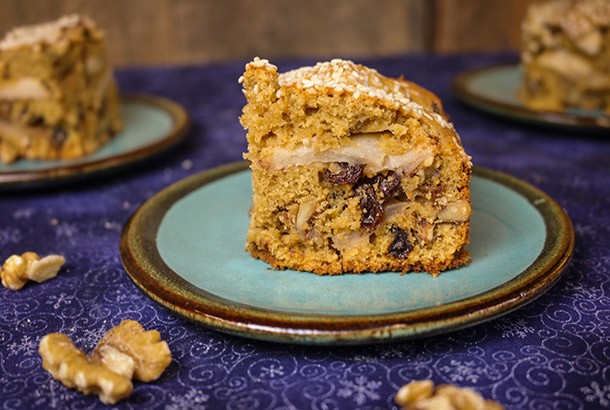 Recipe by Koula Barydakis
In Crete, we use olive oil for everything, including baking sweets (Mediterranean Diet recipes classically use olive oil for baking). This cinnamon walnut apple cake has been baked for special occasions in my family for generations.  Even though we have fruit for dessert on most nights, we will make this as a treat when we are celebrating. Olive oil makes for velvety and moist baked goods and I would highly recommend it for most of your baking needs. One tip is to try to get a buttery or fruity flavored olive oil when you are baking. Eat this cake with afternoon tea or coffee or after a light meal. Enjoy!
Anatolian Flat Breads (Gozleme) with Spinach and Cheese
Recipe by Ozlem Warren
These delicious stuffed flat breads are made with a variety of fillings. My favourites are spinach with cheese, and minced/ground meat with onions. Gozleme is cooked on a hot griddle and being a popular street food, there are always gozleme stalls in markets and cafes. Enjoy gozleme with a glass of Turkish tea, cay, or our traditional yoghurt drink, ayran.
Shrimp with Feta and Tomatoes (Crete)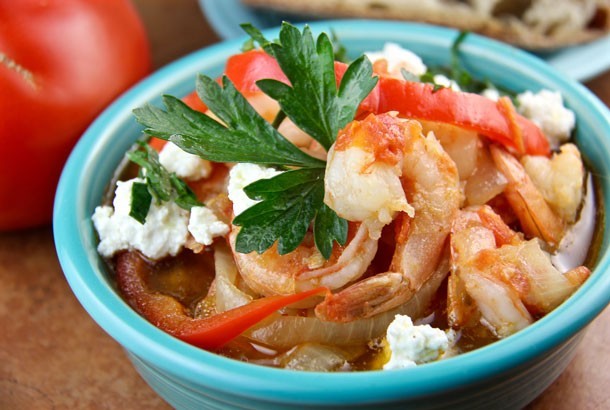 Recipe by Koula Barydakis
My first stop at most parties is the appetizer table.  Ninety percent of the time, the same dishes appear and most of them are not part of the Mediterranean Diet: crackers with 3 different types of cheese; chips with dip; a vegetable platter; kielbasa with mustard; deviled eggs; and of course shrimp cocktail.  I used to love shrimp with tangy cocktail sauce, but I have had so much of it over the years that it's lost it's appeal.  Luckily for us, Koula Barydakis has given us a traditional Greek shrimp recipe that made me love shrimp again!  This recipe works as both an appetizer or as the main dish.  When I have it for dinner I pair it with greens (horta) and potatoes and white wine.  I think you will find this to be an amazing new way to cook shrimp that will add new flavor to both your parties and dinners.
Download our Free e-Book Today!