21 Gluten Free Mediterranean Diet Recipes
Can I eat a Gluten Free Mediterranean Diet?
Yes! The Mediterranean Diet isn't just pasta and bread. There is so much amazing food in the Mediterranean that is naturally gluten free. Did you know, for example, that many versions of traditional Italian eggplant parmesan have no bread crumbs in it? And did you know that falafel, one of the most enjoyed foods in the Middle East, is usually gluten free? The truth is that the majority of recipes eaten in the Mediterranean are gluten free. Below are 21 of our absolute favorite recipes from the gluten free Mediterranean Diet.
Enjoy!
Eggplant Parmesan with Prosciutto
Eggplant Parmesan with Prosciutto
Savory Breakfast Polenta with Eggs, Sautéed Onions and Spinach
Savory Breakfast Polenta with Eggs, Sautéed Onions and Spinach
Moroccan Meatballs and Veggies
Moroccan Meatballs and Veggies
Quinoa Salad with Cucumbers and Olives
Quinoa Salad with Cucumbers and Olives
Italian Polenta Pizza with Caramelized Onions and Kalamata Olives
Italian Polenta Pizza with Caramelized Onions and Kalamata Olives
Zucchini Noodles Baked In Olive Oil
Zucchini Noodles Baked In Olive Oil
Italian Baked Polenta
Broccoli Quiche with Roasted Potato Crust
Broccoli Quiche with Roasted Potato Crust
Falafel (Chickpea Patties with Sesame, Cilantro and Parsley) – Egypt
Falafel (Chickpea Patties with Sesame, Cilantro and Parsley) – Egypt
Italian Parmesan Risotto with Saffron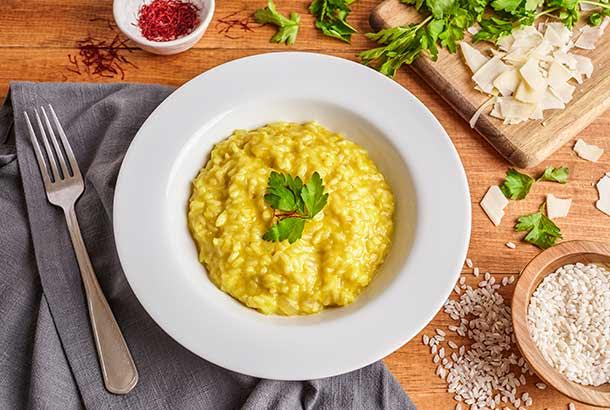 Italian Parmesan Risotto with Saffron
"Naked" or Crustless Zucchini Pie
"Naked" or Crustless Zucchini Pie
Greek Stuffed Grape Leaves
Shakshuka (Eggs Poached in Spicy Tomato Sauce – Morocco)
Shakshuka (Eggs Poached in Spicy Tomato Sauce – Morocco)
Sheet Pan Chicken Thighs with Peppers and Onions
Sheet Pan Chicken Thighs with Peppers and Onions
Kalamata Olive and Chickpea Paella
Kalamata Olive and Chickpea Paella
Italian Red Pesto with Sun Dried Tomatoes and Arugula
Italian Red Pesto with Sun Dried Tomatoes and Arugula
Bean Burgers with Garlic and Sage
Bean Burgers with Garlic and Sage
Pastelli
Whipped Feta with Lemon and Fresh Dill
Whipped Feta with Lemon and Fresh Dill
Tuscan White Bean Soup with Sausage and Kale
Tuscan White Bean Soup with Sausage and Kale
Grilled Salmon Salad with Yogurt Dill Dressing
Grilled Salmon Salad with Yogurt Dill Dressing